School Travel History
Where it all began...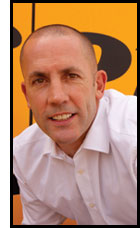 Hi. I'm Philip Hitchen. For the past 20 years I've managed and directed Belle Vue, along with my business partner Ian Bragg. We specialise in providing safe and cost effective transport solutions for schools across Greater Manchester.
My years in business have given me the knowledge and experience to create a quality service within budget that is safe, care free and fun-packed. We work with some of the largest learning centres in the UK.
When I was at school, the school bus was always the 'fleet bangor' or 'sharabanc bus' that was probably the oldest on the fleet. It was always driven by some old bloke who treated the students like toe rags! It was no wonder the bus service was disruptive with bad behaviour! I went to Wright Robinson High School in Gorton, Manchester when I was a kid between 1977 and 1982.
The school had some fantastic teachers, fantastic facilities and some great football teams of which I played in the school team every year. I loved the place. But I always wished I could do something about the transport. Little did I know that dream would come true one day. Today Wright Robinson is a new state of the art Sports College and Belle Vue have provided the transport there for years.
In 2003 I received a call from The GMPTE now TfGM (Transport for Greater Manchester) to do a school run in Central / West Manchester that 5 bus operators had done within a week and thrown it back as the students had caused significant damage to the vehicles and caused a riot that the drivers could not handle. The bus route went right through the notorious Hulme and Moss Side which at times had certain social problems. The challenge was too much to turn down for me and I did the school run myself. After meeting and greeting the students after collecting them all, I pulled the bus up before arriving at school and read the riot act in the nicest possible way. I informed them I was a nice guy and they will be having a lot of fun on the bus in future. I would play their favourite music station on the radio and we would have some fun and mutual respect on the bus, especially on Friday afternoons when they was looking forward to the weekend. Any bad or anti social behaviour, bullying, swearing, smoking, drinking, drug taking, bad manners towards other students or passers by would not be tolerated. I turned my company baseball cap back to front, gave all the cool kids 'five' or touched fists 'in respec' when they got on or off the bus, I greeted every one with a cheerful smile and big "Hello, how are you today?" And we got on like a house on fire! The moral of the story? 'Treat kids like adults and they will behave like adults!' I put Ian my co-director on it the week after, then a regular driver the week after that. If every bus operator threw their school runs back no kids would go to school. Someone has to make a stand and use their skills to turn situations around. In this instance this was down to me, as the operator. The GMPTE were so impressed that they threw other 'bad school runs' at us which we handled in the same manner. Before long the number of school runs just kept on coming. We have the largest school bus fleet across Greater Manchester now.
Over the years we have had a constant and never ending philosophy of improving the fleet quality and the driver service. The number of drivers I have interviewed over the years who have said "I don't do kids!" "Really?" I said. "Then you are not for us," I replied. We only recruit entertaining, friendly people who want to go the extra mile now. In the coach industry doing the school run is classed as the 'dregs' compared to going on tour to lovely romantic cities all over the EU. At Belle Vue, the school run is classed as 'King.' Today's students are tomorrow's passengers in my eye. School transport is over 75% of our fleet size today.
We have measured our service month after month for years. Today we operate an Aftersales Form. This measures everything we do from the customers opinion and it comes straight back to me. My team and I incorporate changes to our management structure to meet customer's requirements. That could be from a 5 year old child or a Head Teacher. Customers are customers at the end of the day.
If we can improve your customer experience in any way possible just drop me a line any time – phil@bellevue-mcr.com
We hope to be part of your next adventure.
Interested in hiring one of our buses?